August 4th, 2014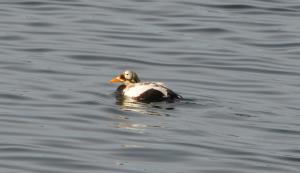 This is my first blog post, so I dont really know what to blog about.

This summer, I was in Nome, Alaska doing bird survey work. During my time there, I observed many great birds that I will go over in successive blogs.

In this blog post I will go over Spectacled Eiders. These birds are arctic nesting birds that breed only in northern Alaska and in Siberia. These Eiders breed in coastal tundra ponds near salt water. These ducks have a more northern distribution and are uncommon to rare on the Seward Peninsula. Luckily, one night after doing bird surveys, we heard that there was one seen that day in the Nome harbor. At which point, after dinner, we went down there to see it.

This Eider is a beautiful bird, with white "goggles" around the eyes, surrounded by light green feathering and a bright orange bill. The body is mainly white with black primaries and a gray breast.